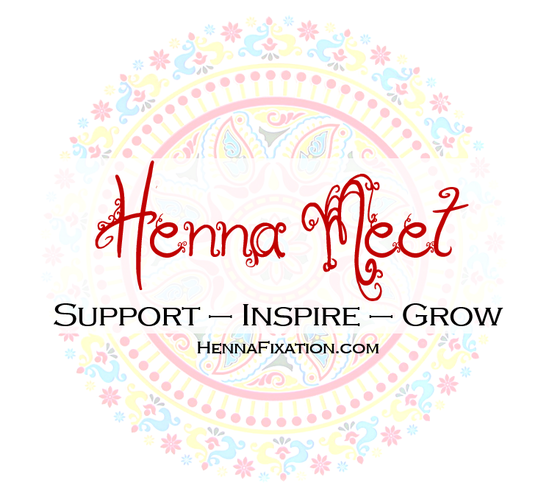 A day to fuel your creativity and advance your skills by just henna'ing is coming your way. Henna Fixation is excited to organize these meets for the super beginner, almost there, and advanced artists in the community. Whether you have only held the cone once in your hands or you are a seasonal professional, come join the meet up and find willing skin and creative minds to fuel your own artistic henna fix.
Occasional Henna Meets will be held throughout the year. Sign up to receive information and updates on the upcoming date.
A small fee of $5 per person will be applied to cover cost of snacks/drinks. All snacks provided would be local to help all small businesses!
Subscribe to our mailing list!
---
Rules
* No henna experience is necessary.
* This is not a henna workshop, there will not be any structured lesson delivered. Bring your inspirations and your desire to grow in the art.
*Natural henna cones ONLY. Feel free to bring your own cones as long as they are not premixed. If you do not have access to henna cones, Henna Fixation will accept henna cone orders (steeply discounted prices) at the time of your registration so they will be ready for you when you come.
*Dress casual. This is a very relaxed environment, so relax and get comfortable!
*NO business promotions will be allowed. This is an individual artist meet, no business (including Henna Fixation) will be promoted and none of the collected funds are contributing to any local or national henna business. Any violations of this rule will result in not being included in future Henna Meets.
* Henna Meets are a non-judgment zone. Artists of varied skills will be welcomed and nurtured. You will be the artist and the canvas. Please be kind, courteous, and let your creativity take the reigns for the day.
* Improvement can not exist without constructive criticism. In the most polite of manners, be ready to give and receive pointers to help you advance your henna journey.
* This will be women-only meet ups. Please leave the gents and the kids delightfully occupied.
* These meets will be held in a pet-loving home. If you are allergic to cats, please be advised.
Are you ready to grow and have fun with fellow henna-loving ladies? Sign up and let's get started!